All our professionals at University Foot and Ankle Specialists, Inc. maintain the highest levels of accreditation and pursue ongoing education to stay ahead of the latest trends in podiatry.
Dr. Richard Tu
Hi my name is Dr. Richard Tu. I was born and raised in San Diego. Thank you for allowing me to be part of your healthcare needs. I perform treatment and surgical procedures with affiliations at Sharp Coronado Hospital, Paradise Valley Hospital, and the UCSD Surgical Center of San Diego. I am proud to be on staff these hospitals because they demonstrate high quality of care delivered by doctors who make decisions based on the best interests of their patients.
I was recently honored as Sharp Healthcare's "Guardian Angel" in 2019 and 2020.
I received my undergraduate degree from UC San Diego in Biochemistry and my Doctor of Podiatric Medicine degree at California School of Podiatric Medicine in San Francisco in 2004. I trained as as a guest at UTHSC San Antonio, Beth Israel Deaconess Medical Center (Harvard), Cambridge Hospital (Harvard), and at Yale-New Haven Hospital (Yale).
I also completed a three year Advanced Surgical Residency at St. Mary's Medical Center and UCSF in San Francisco, CA 2004-2007. It was a honor for me to be one of the top three doctors chosen among my peers to be at St. Mary's Medical Center. I was trained in Plastic Surgery as well as Foot and Ankle Reconstruction/Orthopedic Trauma. During my surgical training I completed 1,200+ foot surgical cases, 1,400+ ankle procedures, with 1000+ office procedures.

In addition, as a resident at St. Mary's Medical Center I taught clinically at CSPM and UCSF teaching podiatry students, medical students, interns, and residents. As a result I have extensive experience in plastic surgery, orthopedic foot and ankle trauma, and the diabetic foot.
The hospitals I trained at included St. Mary's Medical Center, Sisters of St. Mary's Clinic, San Francisco General Hospital/UCSF, Highland (Oakland) General Hospital, Seton Medical Center, Kaiser Permanente San Francisco, as well as Kaiser Permanente Santa Rosa. The faculty I trained with are the best on the west coast of the United States. I had the pleasure of being mentored under the author of "Bunion Surgery" as well as other leading authors in foot and ankle surgery.
I enjoy teaching patients using the latest technology available. With 7 years of specialized education and training about the foot and ankle, I am still not attracted to people's feet 😀.
I am a member of the American Board of Podiatric Medicine and Foot Health Facts. I am also a member of the American College of Foot & Ankle Pediatrics.
I specialize in permanent ingrown toenail surgery, bunion surgery, pediatric & adult flatfoot treatment/surgery, laser toenail treatment, failed foot & ankle surgery, reconstruction, microscopic nerve surgery, and preventive medicine. I am one of the few surgeons Certified in Stryker STAR Ankle Replacement surgery and Treace Lapiplasty Bunion surgery.

I'm fluent in Vietnamese and conversational Spanish. I am at the forefront of current medical procedures. I treat patients just like my own family members.
Thank you for visiting our website,
Richard Tu, DPM, FABPS, ACFAP
Foot & Ankle Surgeon
Pediatric Foot & Ankle Specialist
Board Certified, American Board of Podiatric Medicine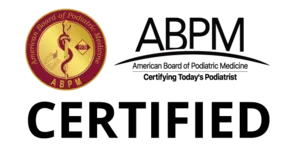 Dr. Tu trained under leading well known authors of texts and surgeons:
The author of the Textbook on Bunion Surgery
Including the forerunner in the use of Total Ankle Replacement Surgery
The inventor/founder of the Austin-Youngswick Bunionectomy
Staff and faculty at University of California San Francisco (UCSF) and Zuckerberg San Francisco General Hospital
Staff and faculty at St. Mary's Medical Center - San Francisco, CA
Staff and faculty at Highland General Hospital - Oakland, CA
Staff and faculty at the Kaiser Permanente Healthcare Foundation, Inc.
Staff and faculty at the University of Texas San Antonio Health Science Center
Staff and faculty at Harvard Medical School
Staff and faculty at Yale Medical School
Experts in Diabetic Wound Care & Limb Preservation
Authors of the University of Texas Diabetic Foot Risk Classification
Foot and Ankle Certificates Held:
Board Certified, American Board of Podiatric Medicine
Certified Stryker: STAR Total Ankle Replacement Surgery

Certified Treace Lapiplasty Bunionectomy
ACFAS , Complex Foot and Ankle Arthroscopy
ACFAS , Complex Foot and Ankle Applications of Monolateral and Circular Frames (Ilizarov technique)
OssaTron/Orthotripsy (ESWT) procedure
Affiliated Hospitals
SHARP Coronado Hospital - Sharp Healthcare
Paradise Valley Hosptial - Prime Healthcare
Medical Consultant
F.M. - Medical/Aesthetic Lasers, Bethel, CT, USA
Affiliations & Memberships
American Board of Podiatric Medicine (ABPM)
Teaching site Kaplan MA and MOA Program
Teaching site Concorde MA and MOA Program
Teaching site UEI MOA Program
---
Administrative Staff
We are proud of our staff and the high quality of work they produce to care for our patients. Below is a list of our current staff members.


Amanda, P.M.A.
Miranda, P.M.A.